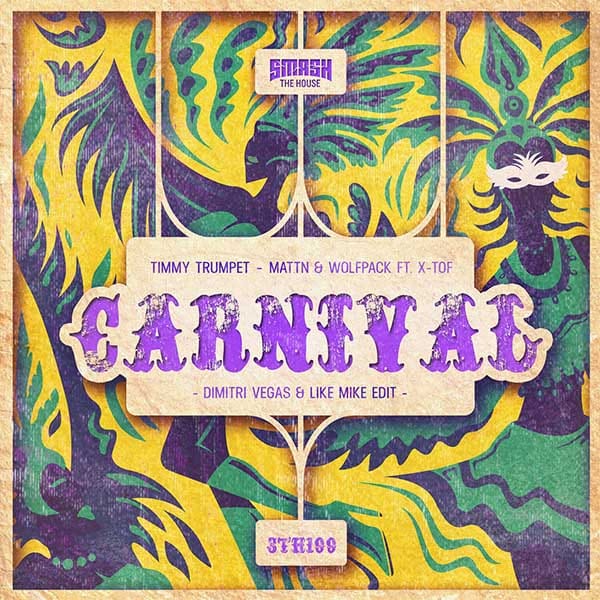 2023
Timmy Trumpet, Wolfpack & MATTN ft. X-TOF
Smash The House
Causing a real stir at this year's ADE with the premiere of an unknown ID, Timmy Trumpet, MATTN, Wolfpack & X-TOF quell the suspense by announcing the official release of 'Carnival' (Dimitri Vegas & Like Mike edit) on the Top 100 DJs Poll #1's own Smash The House imprint. The track is set for release 22nd November, marking the first official release between Timmy Trumpet who also ranks at #13, and Dimitri Vegas & Like Mike despite having recently teased another ID together 'The Rain Dance (Sit Down Anthem)' at this year's UEFA Champion's Festival held in Madrid.
Opening up with an uncompromising bassline and tribal drums, a signature Timmy Trumpet horn section which he is famous for performing live, is isolated before culminating in a mainstage-ready anthem. With a hard-hitting, assertive chorus that can only be played on an accommodating sound system, the aptly named 'Carnival' sets its sights on the kinds of Tomorrowland, EDC, Electrik Playground mass crowds that it's Top 100 DJs Poll ranking creators are more than accustomed to. With a cluster of high-profile smash hits this year, including 'Best Friend's Ass' featuring Paris Hilton, and the all-star sound of the summer 'Instagram' with David Guetta, Daddy Yankee, Afro Bros and Natti Natasha that currently has over 200 million collective digital streams, it seems anything that comes out on the Belgian brothers leading imprint turns to gold. Mix that with Wolfpack, who's had multiple releases on Smash The House this year including most recently the massive 'Tear Me Part' which is already approaching the Spotify million mark, X-TOF whose label debut 'Bomba Latina' has been supported by the likes of David Guetta, W&W, and Bassjackers, and two of this year's Tomorrowland mainstagers MATTN and Timmy Trumpet, and the result is as much a carnival as its title suggests.
With a cross section of the world's #1 DJs, two Smash The House hot prospects, one of the highest-ranking female DJs on the planet, and arguably electronic music's most exciting live instrumentalist, 'Carnival' is purpose-built dancefloor anthem primed and ready for the next party season.